UAE's economy : A snapshot
United Arab Emirates (UAE) is the third largest economy of the Middle East and one of the wealthiest countries in the region on a per capita basis. Locational advantage, coupled with strong financial reserves, large sovereign wealth fund, promising investor-friendly economy, consistent government spending, progressive policy of economic diversification, free zones and increased foreign direct investment contribute most to the UAE's economic advancement. The below figure indicates the GDP growth rate of UAE in the last five years. The data for 2023 is estimated.
UAE's Real GDP Growth Rate from 2018 to 2023
Source: IMF
Dubai within UAE has diversified into the exhibitions, events, ICT, re-export and financial sectors. Taking advantage of its location it has also projected itself as the largest transhipment hub in the region.
India and UAE's Bilateral Trade
India is one of the largest trade partner for the United Arab Emirates (UAE) and the second largest supplier to UAE after China. Bilateral trade reached US$ 72.9 billion in 2021-22 from around 50 billion in 2017-18, however mainly due to rise in imports.
In engineering, UAE remains among the top three export destination for Indian engineering products with a share of around 5.5 percent in India's global engineering exports. India's engineering exports top UAE has increased over the years from US$ 4 billion in 2016-17 to US$ 5.6 billion in 2021-22, registering a CAGR of 6.6%. During 2021-22, India's engineering exports to UAE recorded a growth of more than 74% over the previous year. Major engineering products exported to UAE from India include Iron and Steel, Ships, Boats and Floating Structures, Products of Iron and Steel, Electric Machinery and Equipment, Motor Vehicle/cars, Industrial Machinery for dairy, agriculture, food processing, textiles, paper, chemicals, etc. The India-UAE Comprehensive Economic Partnership Agreement (CEPA) is estimated to take bilateral trade between India and the UAE to US$100 billion by 2030.
India's total Vis-à-vis merchandise exports to UAE (USD Bn.)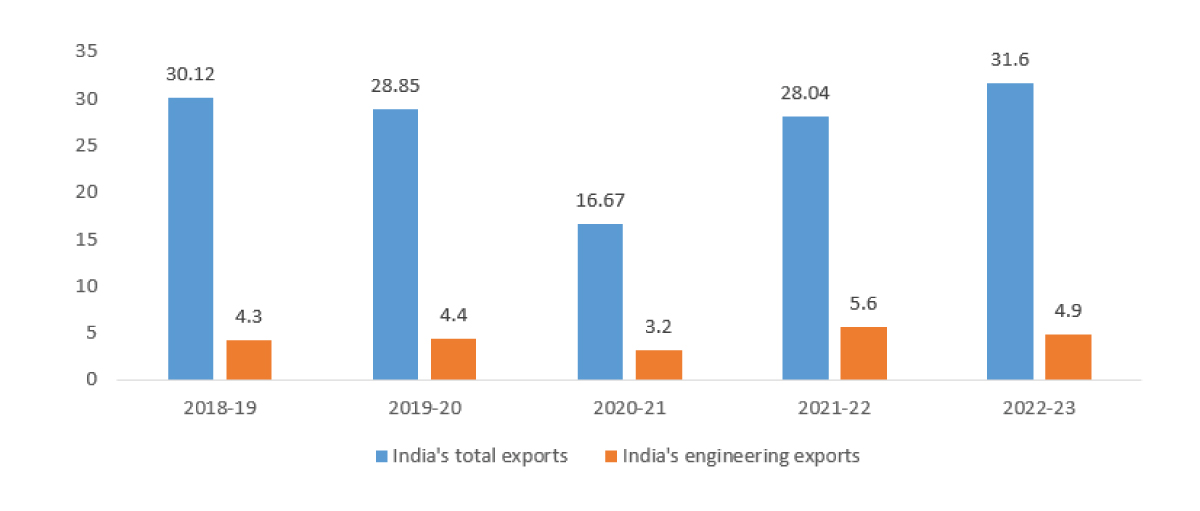 Source: DGCI&S
UAE's construction industry: Prospects for India
The UAE's construction market size was USD 86.7 billion in 2022 and the market is projected to grow at an annual average rate of 3% between 2024 and 2027. The growth in the industry will be driven by increased public and private spending on infrastructure, renewable energy, oil and gas, etc. As UAE also becomes a sought after destination for working professionals there is also a boom in housing. Hence there is significant scope for Indian construction machinery exporters in the UAE market and the Big 5 provides a very good platform for Indian enterprises to connect with the UAE market.